The Thinning Veil

On one level, we are each separate beings with our finite little lives. But on a truer level, we are each infinite and eternal. We have no beginning and no end. And we are one with each other and every single thing.
Cry Baby, 6:56 min
this video was displayed in an intercom at alternative art gallery called Third
Floor On The Left curated and hosted by Meital Aviram (31.01.2019).
Together we made a project which the boundaries between the curator and
the artist were dissolved.
I recorded Meital phone calls in her most fragile moments, and later on
made this 3d dance of my own body scanned and coordinated it to the
sound of her crying.
Mom, Stop Smoking!
2018 , airbrush on canvas ,metal frame and chains
190cm*140cm

Louvre







Beehive Yourself
I found a hornet's nest in my studio, so i called an exterminator to take care of it.
I collected part of the nest and made a memorial monument out of ceramic, tobacco, and architectural flowers on a ceramic tile of beehive image.

Cut Me In The Middle

A carpet depicting my naked body.
Using a 3D scanner, I created a spread out image of me printed on a carpet. I was looking to replace the haunted animal with myself and to turn my image into a house decoration. In doing so I was looking to explore my position in the world as an object.
SUPTA VIRASANA


i posture 3 muscular men in nylon suits , that their goal is to fill the fountain of sweat by doing some exercises.






Sauna/Steam Room , 2017
Installation view
Metal, glass, plaster walls, glazed ceramic tiles, steam machine


The sauna was my final thesis. An installation of an active steam sauna decorated with 500 painted

tiles (four walls, oor and a bench all covered with handmade painted tiles). The paintings were done

in a variety of techniques such as spraying, spilling and dropping. Some of the images have been

made with the usage of stencils that were laser cuts. And some were done as expressive abstract

paintings. The work attempted to create clean disconnected and intimate space in the heart of the

plaster workshop which is the most lthy space at the academy.


The sauna is an alienated space that supplied an intensely physical experience – a heterotopia, that

was characterized by its temperature and humidity, dierent from its surrounding environment, and

involves rituals of undressing and purication.

Entering a sauna is entering an isolated and enclosed space, putting on hold the daily routine and

disconnecting from it.

The painting technique protects the paintings from moisture, but also produces unconventional and

uncontrolled objects –those are paintings you may touch.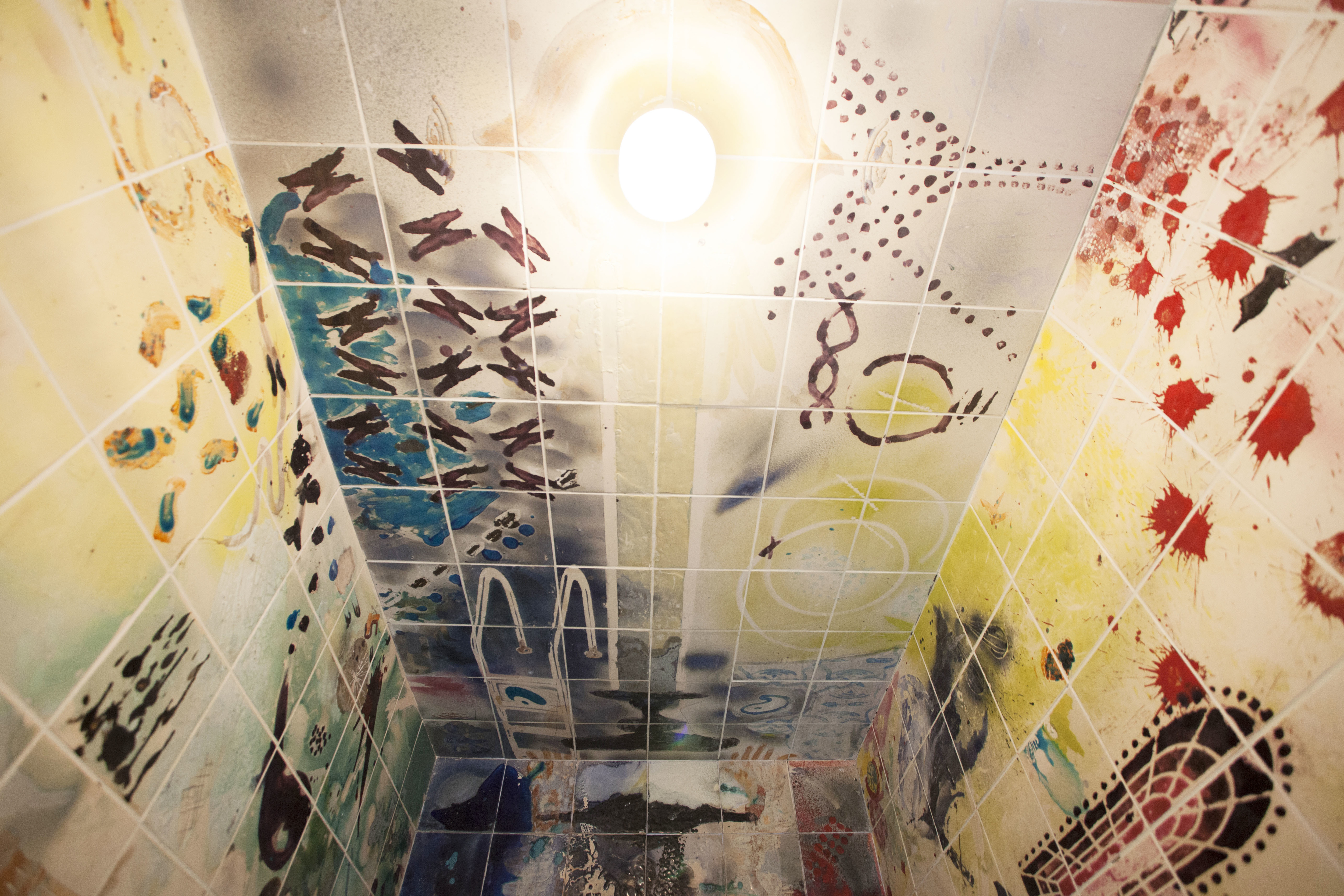 pink thunder

,oil on linen
140*120
body pic
oil on linen

100*80

Armagedon

220*200
OIL ON CANVAS



180*120
OIL ON CANVAS








400 cm*150cm






video 2:01

OR's enlightment